I have always been impressed by the Bible verse that simply states, "Jesus wept." Mary and Martha, friends of Jesus, were sad because their brother Lazarus was dead. When Jesus saw their sorrow, he wept. Even though he had the power to raise Lazarus from the dead (and he did bring him back to life), Jesus did not minimize the feelings of those who were grieving. He took the time to mourn with them. After he wept with them, he performed the miracle.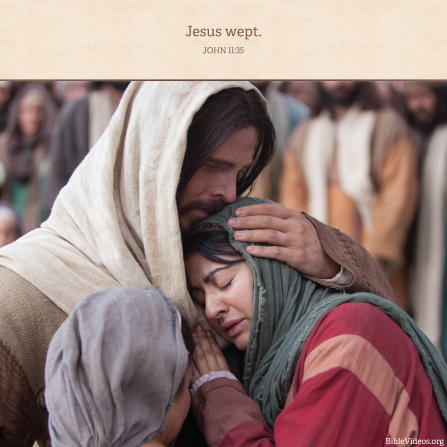 Jesus weeps, as Mary and Martha mourn. (source)
What can I learn from this? I can have compassion on others, even if I can see a clear solution to the problem. Feelings are valid and real, even though they might be fleeting. I can share in the feelings of others, even if my own circumstances might be more pressing. (It was after this miracle of Jesus that the chief priests and Pharisees sought to kill him.)
Developing true compassion takes time--perhaps even a lifetime. Though I am still working on becoming a more compassionate person, I remember years ago having an "a-ha" moment in line at the pharmacy.
I had just been released from the hospital after delivering a very small, very early, very sick baby. He remained in the hospital, of course, and I did not know what the future held for him. I had two other children at home. I was recovering from an emergency crash c-section. I was physically and emotionally drained. I don't even remember now why I was in line at the pharmacy, but as I waited in line, an older woman in front of me starting talking to me. She was so worried about her grandchildren. One had broken a bone, and the other had a low-grade fever.
Inwardly, I thought, "Oh that's not bad!" My first impulse was to tell her of my circumstance, but fortunately, I bit my tongue. I thought of her needs. My situation would not change her concern for her grandchildren. I just listened to her, and as I did, I felt the joy that comes from helping someone. Yes, I would have "won" the "How bad are things for you" contest, but that game really would have had no winner. Instead, we both won. She got to vent a little bit of her worry, and I felt the joy of service.
Today's #LightTheWorld challenge is to show compassion. No matter how you choose to participate, the world will be a little brighter for your compassion.
(I missed posting the #LightTheWorld challenge yesterday, but it was about worshipping through song. That is an easy one, I think, especially this month. You could listen to The Mormon Tabernacle Choir's 24/7 commercial-free station, attend Christmas concerts, or go caroling to your neighbors. I'm sure you can think of other ideas, too. Enjoy the music of the season!)


Thanks for compassion--given and received.