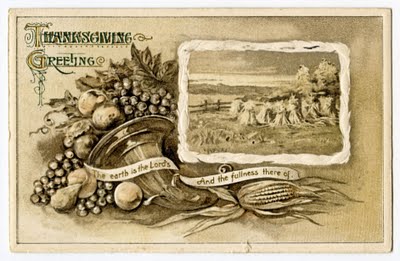 Photo: An old postcard pictures a cornucopia and an inset of a harvested field, with the captions: "Thanksgiving Greeting" and "The earth is the Lord's And the fullness there of."
Have you ever thought about the fact that Thanksgiving was established as a holiday in the United States during the middle of the Civil War? Abraham Lincoln delivered this proclamation:
. . . I do therefore invite my fellow citizens in every part of the United States, and also those who are at sea and those who are sojourning in foreign lands, to set apart and observe the last Thursday of November next, as a day of Thanksgiving and Praise to our beneficent Father who dwelleth in the Heavens. And I recommend to them that while offering up the ascriptions justly due to Him for such singular deliverances and blessings, they do also, with humble penitence for our national perverseness and disobedience, commend to his tender care all those who have become widows, orphans, mourners or sufferers in the lamentable civil strife in which we are unavoidably engaged, and fervently implore the interposition of the Almighty Hand to heal the wounds of the nation and to restore it as soon as may be consistent with the Divine purposes to the full enjoyment of peace, harmony, tranquility and Union.
In a year when political differences were so intense that some brothers were literally enlisting in opposing armies, the nation paused to give thanks. Despite personal pain, despite loss, despite grieving, despite the bleak future outlook, the recommendation was to give thanks.
Did Thanksgiving impact the outcome of the war? I don't know, but I do know that the act of giving thanks can change one's own heart, and make one more apt to want to help people.
When we gather around the table today, let's leave politics aside, and remember all the blessings for which we are thankful. If citizens could do that during the Civil War, we can, too.