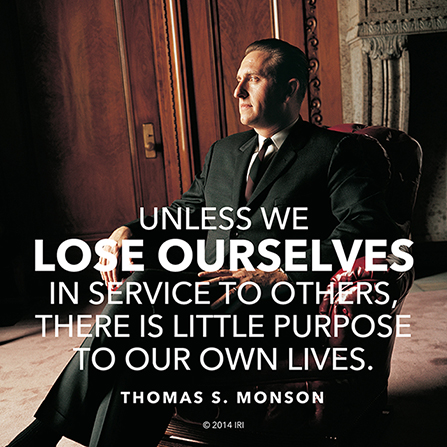 Photo: Thomas S. Monson, as a younger man, sits in a leather chair. A quote by him is spelled out on the photo: "Unless we lose ourselves in service to others, there is little purpose to our own lives." Source
The theme of this post has been percolating in my mind for a few days. I believe that most of my readers recognize that I am a Mormon, a member of The Church of Jesus Christ of Latter-day Saints. This past week, Thomas S. Monson, the prophet and president of the church, passed away. I am, of course, saddened that I will no longer be able to hear him speak at future conferences, but I also recognize he had been failing in health and now he can be reunited with his dear wife, who preceded him in death. I also know that church leadership continues to run smoothly and a new prophet will be called soon.
While I know that some of my readers are also members of the LDS church, I know that many are not. From comments you have made on my blog, to private conversations we have had on Facebook or via email or text, I appreciate the sincere questions and respect that has been given. You are proof positive that it is possible for people to disagree on deeply-held beliefs--religious, political, social, or other--and yet be friendly, kind, and courteous. A difference of opinion does not negate friendship; when we seek the admirable traits in each other, our lives are enriched.
Understandably, when Thomas S. Monson died, media outlets took note. Most of the reports were as one would expect. NPR tweeted, "Thomas S. Monson, president and prophet of The Church of Jesus Christ of Latter-day Saints, has died at the age of 90." CNN reported, "Thomas S. Monson, Mormon church president, has died at his home in Salt Lake City, Utah, according to a statement from The Church of Jesus Christ of Latter-day Saints." Politicians from both sides of the aisle also took to Twitter. Al Gore wrote, "I send my condolences to the LDS Church and to the family of its leader, Thomas Monson." The White House issued a statement: "Melania and I are deeply saddened by the death of Thomas S. Monson, a beloved President of the Church of Jesus Christ of Latter-day Saints."
All of those statements were respectful and to-the-point. Another major newspaper took a different approach, tweeting not just the fact that he died, but spending precious characters defining his service in a negative light. This publication's main gripe seemed to be that the church did not change its doctrine during President Monson's tenure. I understand that not everyone holds the same beliefs, but I'm saddened that a report of a death took a negative slant.
This Ten Things of Thankful post will be my response to that newspaper's negativity: positive counsel given by Thomas S. Monson--counsel I am thankful for, that I think applies to us all (regardless of religious affiliation), and advice which I strive to obey.
1. "Let us speak to others with love and respect, ever keeping our language clean and avoiding words or comments that would wound or offend. May we follow the example of the Savior, who spoke with tolerance and kindness throughout His ministry." (Be an Example and a Light, October 2015 General Conference)
2. "I am confident there are within our sphere of influence those who are lonely, those who are ill, and those who feel discouraged. Ours is the opportunity to help them and to lift their spirits. The Savior brought hope to the hopeless and strength to the weak. He healed the sick; He caused the lame to walk, the blind to see, the deaf to hear. He even raised the dead to life. Throughout His ministry He reached out in charity to any in need. As we emulate His example, we will bless lives, including our own." (
Be an Example and a Light,
October 2015 General Conference)
3. ". . .let us examine our lives and determine to follow the Savior's example by being kind, loving, and charitable. And as we do so, we will be in a better position to call down the powers of heaven for ourselves, for our families, and for our fellow travelers in this sometimes difficult journey back to our heavenly home." (Kindness, Charity, and Love, April 2017 General Conference)
4. "May we ever choose the harder right instead of the easier wrong." (Choices, April 2016 General Conference)
5. "We cannot truly love God if we do not love our fellow travelers on this mortal journey." (Love--the Essence of the Gospel, April 2014 General Conference.)
6. President Monson had a gift for storytelling. This next item is a video clip, so you can appreciate his talent, as he teaches the concept of "judge not."
7. "We can lift ourselves and others as well when we refuse to remain in the realm of negative thought and cultivate within our hearts an attitude of gratitude." (The Divine Gift of Gratitude, October 2010 General Conference)
8. "
Send that note to the friend you've been neglecting; give your child a hug; give your
parents
a hug; say "I love you" more; always express your thanks. Never let a problem to be solved become more important than a person to be loved." (Finding Joy in the Journey, October 2008 General Conference)
9. "
If we desire to have a proper spirit with us at all times, we must choose to refrain from becoming angry." (School Thy Feelings, O My Brother, October 2009 General Conference)
10. Finally, I'll end with another video clip. President Monson leaves behind a legacy of service, and this clip shows how his example has spread.


Did any of those quotes ring true to you?
What are you thankful for this week? Please join us at The Ten Things of Thankful blog, and link your own post.