This week, I've been reminded of the power of "one."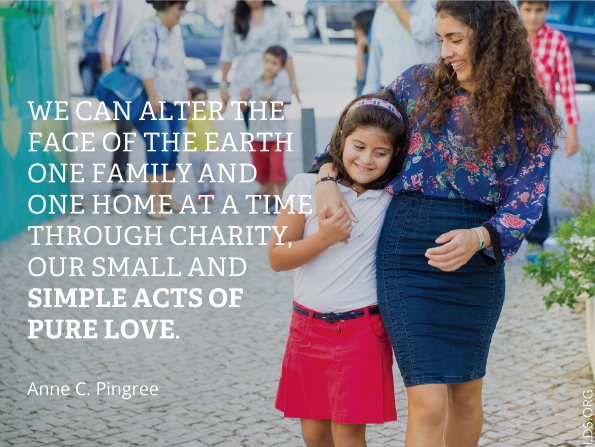 Photo: A young woman walks down a cobblestone street with her arm around a girl. The quote, by Anne C. Pingree, reads: "We can alter the face of the earth one family and one home at a time through charity, our small and simple acts of pure love." Source
After viewing a particularly scary house (quite obviously the dwelling of a serious hoarder), our realtor asked, "So, is this 'the one'?" No, it isn't the right house for us, but we are enjoying the search for a home to purchase. I'm thankful (1) for our realtor's patience with us, as we request to see very diverse properties, and I'm thankful (2) that both John and I realize that homes are much more than the walls that make up a house.
Yesterday afternoon, John and I had the privilege of attending an open house for a young couple who recently married. The bride had been best friends with our son when they were preschoolers. Her older sister was best friends with our oldest daughter, and her oldest sister was friends with our oldest son. We had not seen her family in 19 years. What a happy reunion! Also in attendance was another couple that we hadn't seen in those 19 years. We had such a nice time talking with them. Afterwards, I reflected back on how each one of those friends have been a blessing to us, and how I have learned from each of them, individually.
I'm thankful (3) that we could spend time with our friends, and I'm thankful (4) that despite that fact that so many years have gone by, we picked up as if no time had passed. I'm thankful (5) for the countless hours of listening and service these friends gave me 24 years ago, as I lay in a hospital bed for weeks, fighting pre-term labor. I don't think they realize what an impact they made on me and my family. One of those friends was childless at the time, and I can only imagine what it took to put aside her own feelings as she supported me in my pregnancy. The other friend was pregnant at the time (her daughter--the bride yesterday-- was born just one day after my son's early arrival), yet she found the energy and time to help me.
After the birth of my son, those women continued to teach me through their examples. One friend helped me be more patient with myself. She is a talented painter, and once, while teaching a class I attended, said that we should rejoice when we make a mistake. Since only God is perfect, when we make an error on a piece, we can then relax, knowing we have our mistake out of the way. She stated it more eloquently, but the idea stuck with me. We all make mistakes; imperfection is to be expected; just keep trying and be happy. I'm thankful (7) for that paradigm shift.
The other friend showed me mercy and kindness when she could have been upset, or at least frustrated. Her daughter had several broken bones as an infant and toddler; just the normal falls and bumps of childhood often resulted in a broken bone. Wearing a cast was almost the rule rather than the exception. At one point in time, right before they were to take a trip to Hawaii, my friend was so excited because her girl was all healed up and cast-free. She was looking forward to being able to have her family enjoy the water without the burden of protecting a cast. The week before they were to leave, I was watching her daughter at my house. While the kids were playing, her daughter fell and broke her arm. My friend was so gracious about it, quickly reassuring me that she was experienced and skilled in cast-protection, and it wouldn't be a hassle at all to have her daughter in a cast in Hawaii. She probably would still insist it was no big deal, but I'm thankful (8) for her genuinely kind reaction.
Last night, John and I attended the adult session of our church stake conference, and one of the speakers talked about how Jesus Christ
served 'the one.' While he loved everyone, the scriptures abound with his example of kindness toward 'the one.' Though in a throng of people, he could notice one woman who touched the hem of his robe. He taught parables about one wandering sheep, one lost coin, or one prodigal son. I'm thankful (9) for the love of Jesus Christ, and His example of serving individuals, one by one.
I'm thankful (10) for my children and grandchildren--not just collectively, but individually--and for John, who is 'the one' for me.
What are the things you are thankful for this week? What and who are the 'ones' in your life? Leave a comment, and if you blog, feel free to write a post of your own to link up at the Ten Things of Thankful blog.