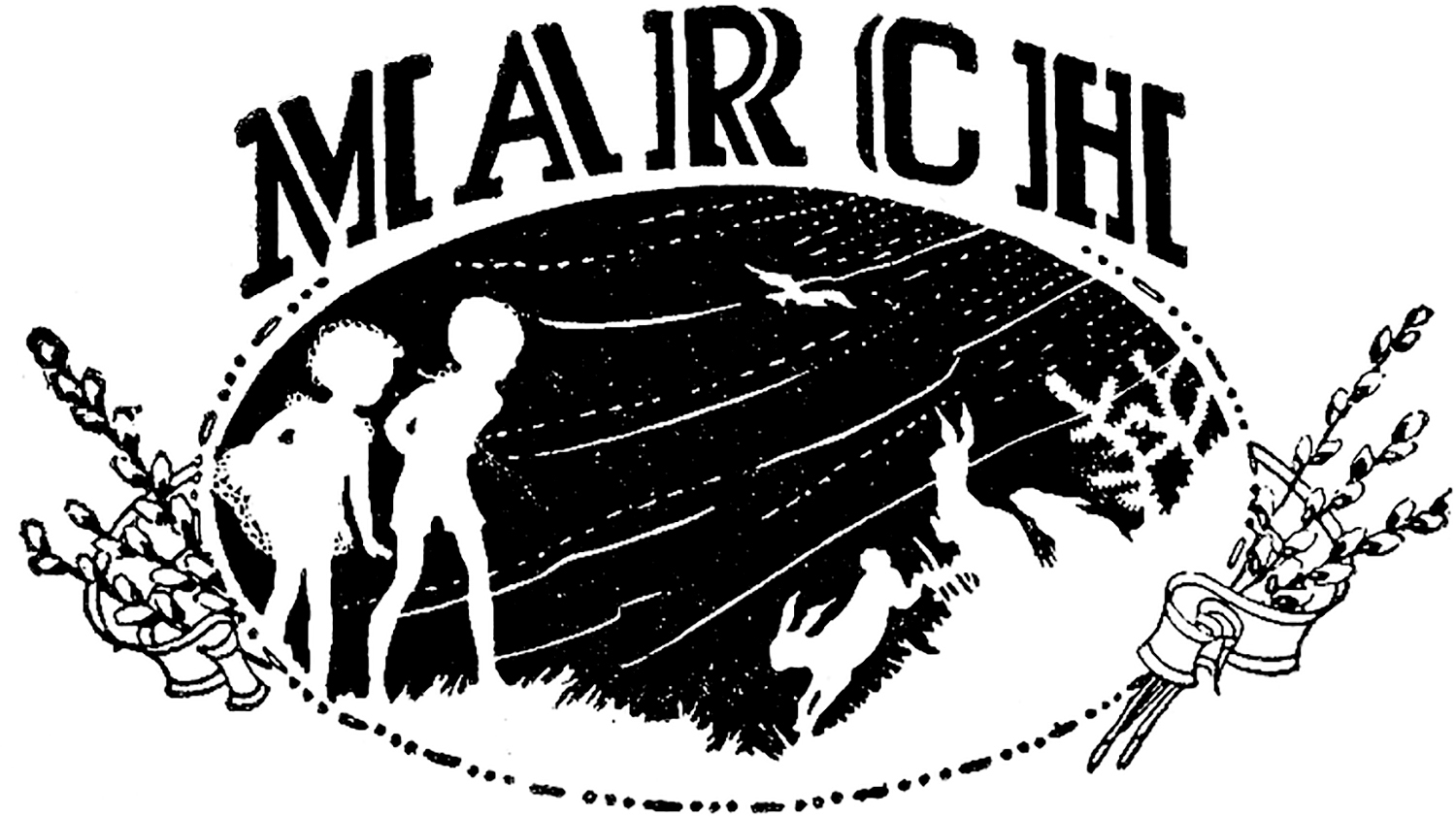 A black-and-white oval-shaped graphic of a boy and girl outside in the wind. Bunnies and birds frolic and fly. The text above the graphic reads, "March" (source)
March arrived on Sunday with a snowstorm. By Friday, the high temperature was 70 degrees. Today (Saturday), the clouds are rolling in and rain and snow are in the forecast for tomorrow. Welcome, March, where we get hints of springtime in between snowstorms!
With the unpredictable weather and the concern about the corona virus, it's been a strange week. But, as always, there are still things to be thankful for, so let's start counting!
1. I'm thankful for toilet paper. Knowing that I had extra rolls in the basement, I didn't get panicked when the store shelves were empty this week. I overheard one Costco employee tell another that the store sold 40 pallets of toilet paper in 20 minutes!
2. I'm thankful for John's work-at-home job. Some companies are telling employees to telecommute for the next little bit, but John's commute is always just down the hall. It's nice to not have to worry about picking up a virus from work.
3. I'm thankful for learning new things. I'm (still) working on a video from RootsTech. I realized my (free) software program was lacking some features I really wanted to use. I was able to search for and find another free program that has what I wanted. Of course, downloading it required me to update a graphics driver. At least, I think that is what it was. In any case, I spend a fair amount of time just getting ready to start the project, but I'm glad I was able to figure it out. I'm enjoying the editing process and hope to have the video done soon.
4. I'm thankful for my dad. He is touching-up a bunch of old (think about 100 years!) photos and writing his remembrances of the people in them. Obviously, he wasn't born 100 years ago, but knowing that he personally knew the people in the photos makes them seem more real. His photography skills are amazing, and I'm glad he can help preserve the photos and the stories.
5. I'm thankful for friends. I met a friend for lunch this week, and it was good to catch up.
6. I'm thankful for phones. Some friends and many family members are separated from me by lots of miles, and it's always nice to talk to them.
7. I'm thankful for my exercise buddy. We enjoy talking while we work out, and it makes the time go by quickly.
8. Speaking of exercise, I'm thankful that I found a very gradual couch-to-5K plan. The last time I ran a race, it was a half-marathon in September 2018. I'm so far removed from being able to run that distance now, but I want to work back up to it. This very gradual program has been do-able, and I've kept at it for a few weeks now.
9. I'm thankful for the outdoor projects we could tackle this week. The backyard is coming together. We added two more seats in the firepit area, and got a firepit. John stapled wire mesh around the base of the shed, to hopefully prevent critters from taking up residence underneath the shed. He also put pavers in front of the shed door.
10. I'm thankful for John. We have so much fun together, whether we are doing projects or playing games. (Is it wrong to enjoy the board game Pandemic while the corona virus is going around? I hope not!)
How are things in your neck of the woods? I hope you are healthy and happy and have enough toilet paper. Please join in the Ten Things of Thankful blog hop--it's a gathering with no fear of catching the corona virus!